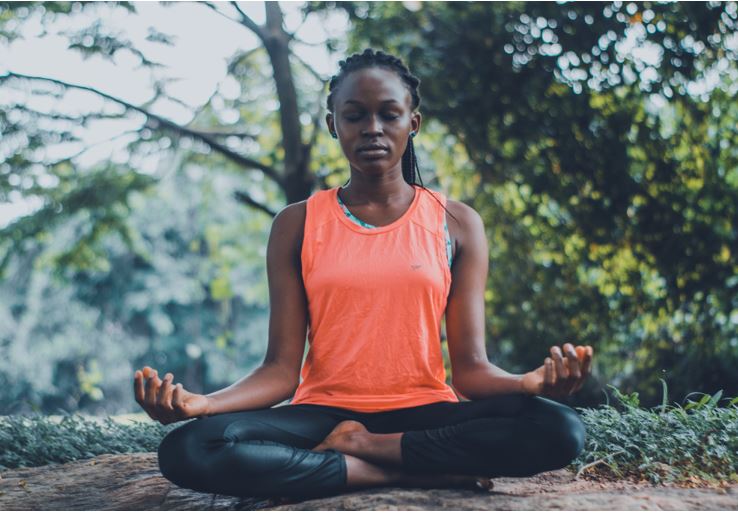 ——-By Sheila Johnson
Have you ever been in awe of that person in yoga class who seems to do a headstand with ease? Or maybe you're a beginner wondering if you're ready for the next level. No matter who you are or how much experience you have, it's normal to want to get more out of your yoga regimen.
Reach Through Technology
We live in a time when opportunities for growth are just a click away. With that in mind, think about taking advantage of all the amazing resources on the web when you're not in class. The internet is full of tutorials to spark different sequencing ideas or developing the inspiration to try something fresh. We also love using yoga apps on a phone or tablet. Yoga apps are the next-level step for home practice because they do more than simply guide you. For example, Refinery 29 highlights options that allow you to track how you feel after a sequence, while others feature yoga flows that are based on certain themes.
Home Sweet Home
Whatever more is to you, there's one surefire way to work on accomplishing it. The answer – you guessed it – is more yoga! Developing an in-home routine is the best way to supplement what you learn at your studio. Even if you're already doing yoga at home, there are plenty of opportunities for getting even more out of your home practice. When starting at-home yoga, remember that clutter and messes can be detrimental to your practice. A messy home can make focusing difficult and allow negativity to seep into your yoga routine.
Giving Props to Props
When you're searching for ways to enhance your practice, don't overlook using props. While ideally an instructor will walk you through the use of different pieces of equipment, apps and videos on your phone can help here too. If you aren't sure when or how to use props in your home practice, check out this video that walks you through using a block, a strap, and a wheel. Similarly, Yoga Journal can guide you through using a bolster for more than just restorative yoga.
Expand Your Knowledge Base
Last but not least, one thing everyone can do to reach the next level in yoga is to expand your knowledge base. Learning more can build a better mindset, whether you intend to practice primarily in classes or on your own. Those who are ready to advance in yoga need both curiosity and discernment. To feed your curiosity, dive into videos and any other information you can find about yoga.
Trying new things in yoga also means taking risks. Risk can be scary… and that's ok! This doesn't mean you should try something you aren't ready for, and yoga should never be painful. But when you are ready to make that next move, following your body's lead, without letting your mind get in the way, is the trick to going for turning inspiration into success.
Every person's yoga journey is unique, and you have to do what's right for your body. What more do you want to get from yoga? What is it that your body and mind need to reach that next level? Try incorporating these tips, wherever you practice, and watch as your goals start to come within reach.
Pain Relief-Relax Center offers our valuable clients the following services: